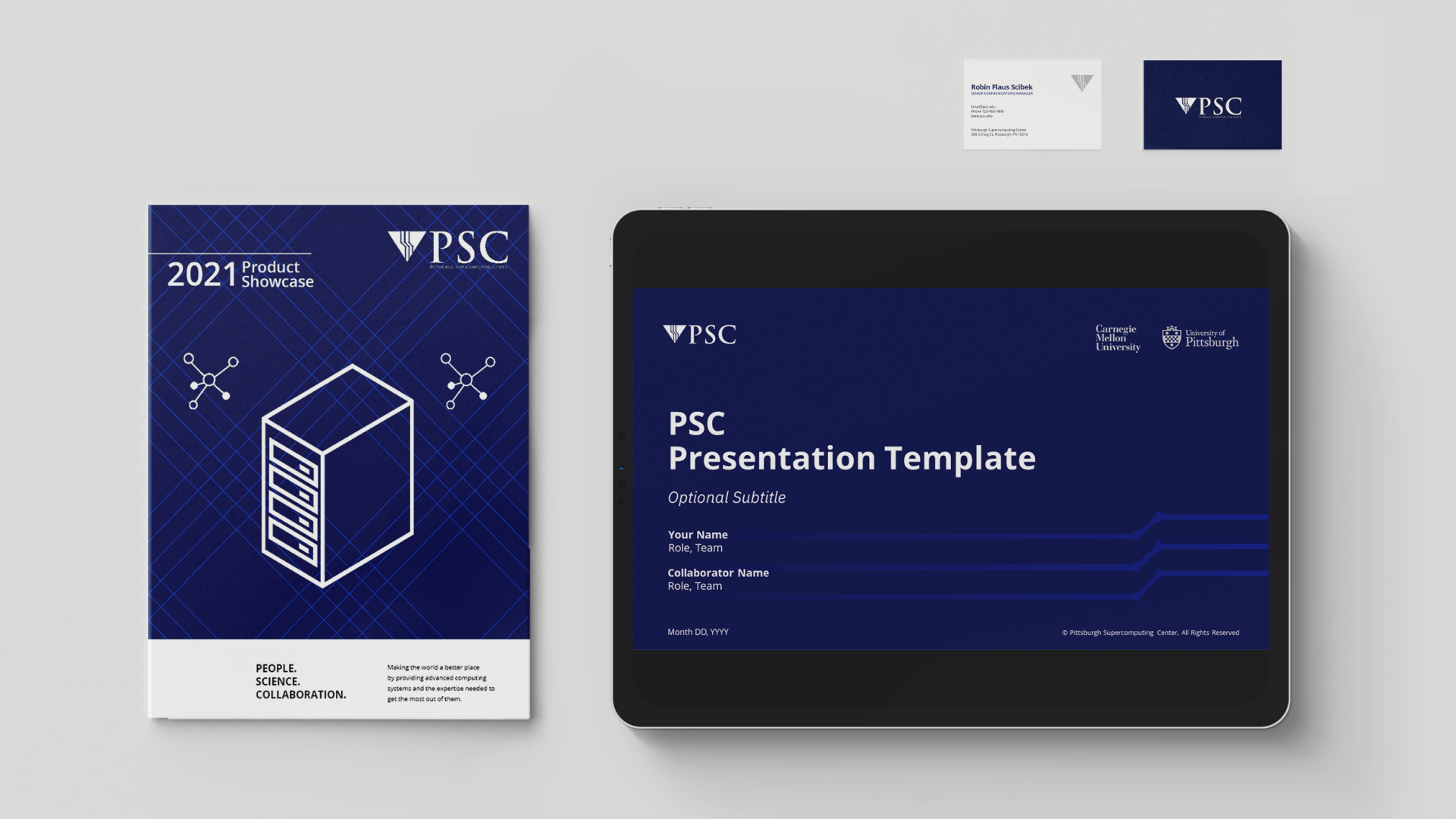 Pittsburgh Supercomputing Center
The Pittsburgh Supercomputing Center is a computational research center that provides advanced cyberinfrastructure, research collaboration, and training to university, government, and industrial researchers nationwide.

As the sole graphic designer on their team this summer, I drew from the center's values of accessibility and approachability to solidify a humanistic shift in their brand. Spanning print materials, templates, and digital assets, my identity balances imagery and an energetic color palette with fluid plug-and-play functionality.

Role: Graphic & Brand Design Intern
Supervisors: Robin Scibek, Megan Caroll

Tools: InDesign, Illustrator, PowerPoint
Skills: Graphic Design, Brand Design, lllustration

---
Problem
After experiencing a period of changing leadership, the center was seeking a new direction for their brand that honored its parent institutions while also defining an identity of its own.

In order to bring that identity to life, the communication team brought me in to produce materials that would unify their internal processes and create consistency across their visuals.
---
Collateral
Drawing from conversations with various members of the center, I discovered that their human resources were a point of pride for the center, as well as one of their key services. This idea drove me to develop a visual system that would expose a welcoming and accessible side of high-performance computing.
Product Showcase
For this brochure explaining PSC's services, projects, and community impact, I developed a simple plug-and-play hierarchy, consisting of a header banner and indented paragraphs that could be utilized for any of the center's external-facing print documents.
Stationery
To increase the recognizability of PSC's brand in an external environment, I refreshed PSC's pre-existing stationery with patterns and colors that would assert their refreshed brand direction.

Presentation Template
Researchers and administrators at PSC each had their own disparate processes for assembling their presentations, leading to friction between collaborators. In response, I sought to design a clear and consistent framework that they could use to express their ideas.
Electronic Posters
In this set of poster layouts for PSC's annual trade show, I applied my visual system to a more image-heavy context. I also established a photographic duotone style that would further unify the center's visual brand.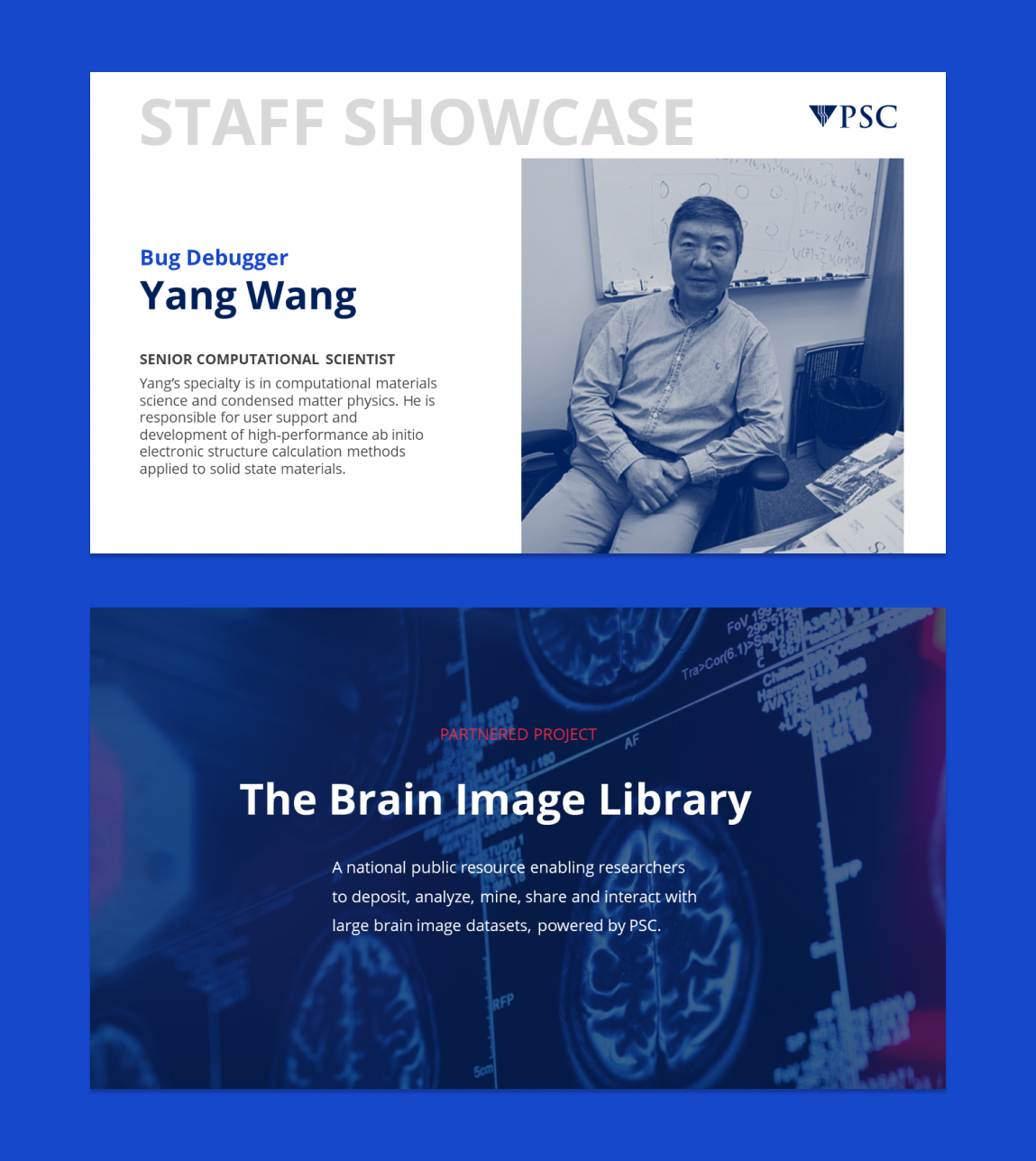 ---
Style Guide
The needs of the communications team were quickly outgrowing PSC's previous style guide. One of my primary tasks was to distill the visual identity into a comprehensive document that would fully outline its components and provide instruction for proper usage in context.

As the previous style guide was more of a display of assorted parts, I sought to create a language through layout, color combinations, and graphical treatments that would unify the disparate components into a concrete visual identity.

I created this selection of icons to represent the types of research PSC enables as well as the computing and user support services they offer.

---
Conclusion
Through this process, I matured both by technical skills and interpersonal ones as well. On the technical side, I developed a deeper respect for how identity could be created through firm yet flexible treatment of each visual component ranging from layouts to typography. On the interpersonal side, I learned how to communicate with a non-designer client in order to identify nascent brand values and the true needs of their brand.

Moving out of this project, I feel more confident building cohesive visual languages, and am excited to further explore the realm of brand design!