Dungeon Meshi Fanmade Game
Dungeon Meshi by Ryoko Kui is a fantasy manga about a party of characters who begin their foray into the world of monster cuisine as they journey to save a friend from the digestive tract of the Red Dragon.

Over the course of four weeks, I worked with fellow artist and designer Gary Tang to create a visual identity and user interface that would adapt the humor and warmth of this manga into the form of a computer game.

Tools: Illustrator, Figma, Clip Studio Paint
Skills: Visual Design, UI/UX, Game Design

Role: UI Art, Layout, Design System
Team: Gary Tang

View Assets on Behance
---

My Role
My primary responsibility was to develop the look and feel of two key screens: One for cooking, and the other for managing the party's equipment.

In the process, I utilized my skills with typography and branding, working with Gary to establish an overarching visual language that would feel cozy and quirky, yet still grounded in a world of medieval fantasy.

Let's Cook!

What's more exciting than sitting down to eat a hot meal? Preparing it, of course! I designed the interface for this cooking screen to emphasize explorative gameplay.

Players can either choose from a selection of their owned ingredients or from recipes that they've previously unlocked to begin cooking. Over the course of the game, they achieve mastery as they try out new combinations of ingredients and learn what portions lead to the best results.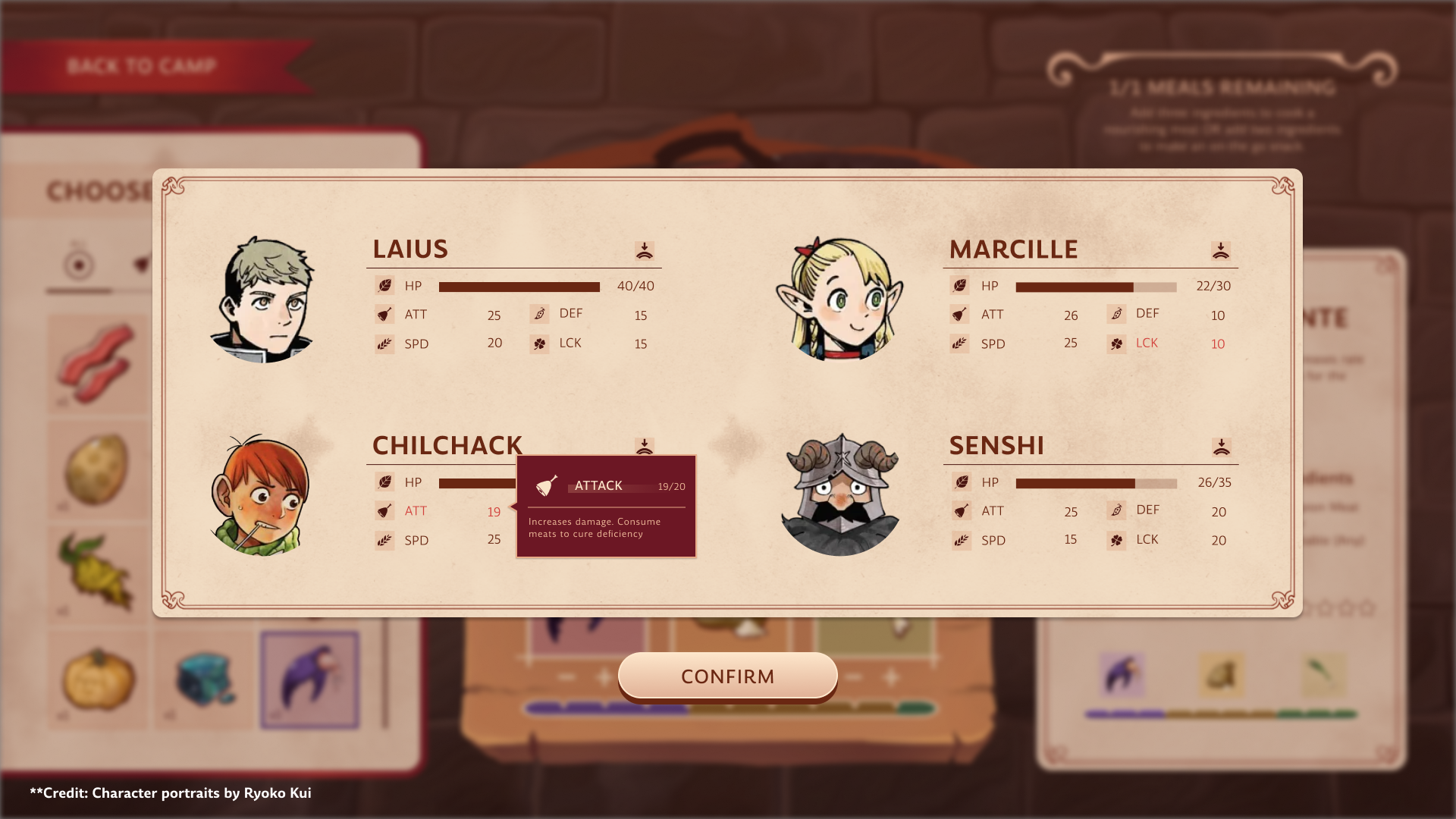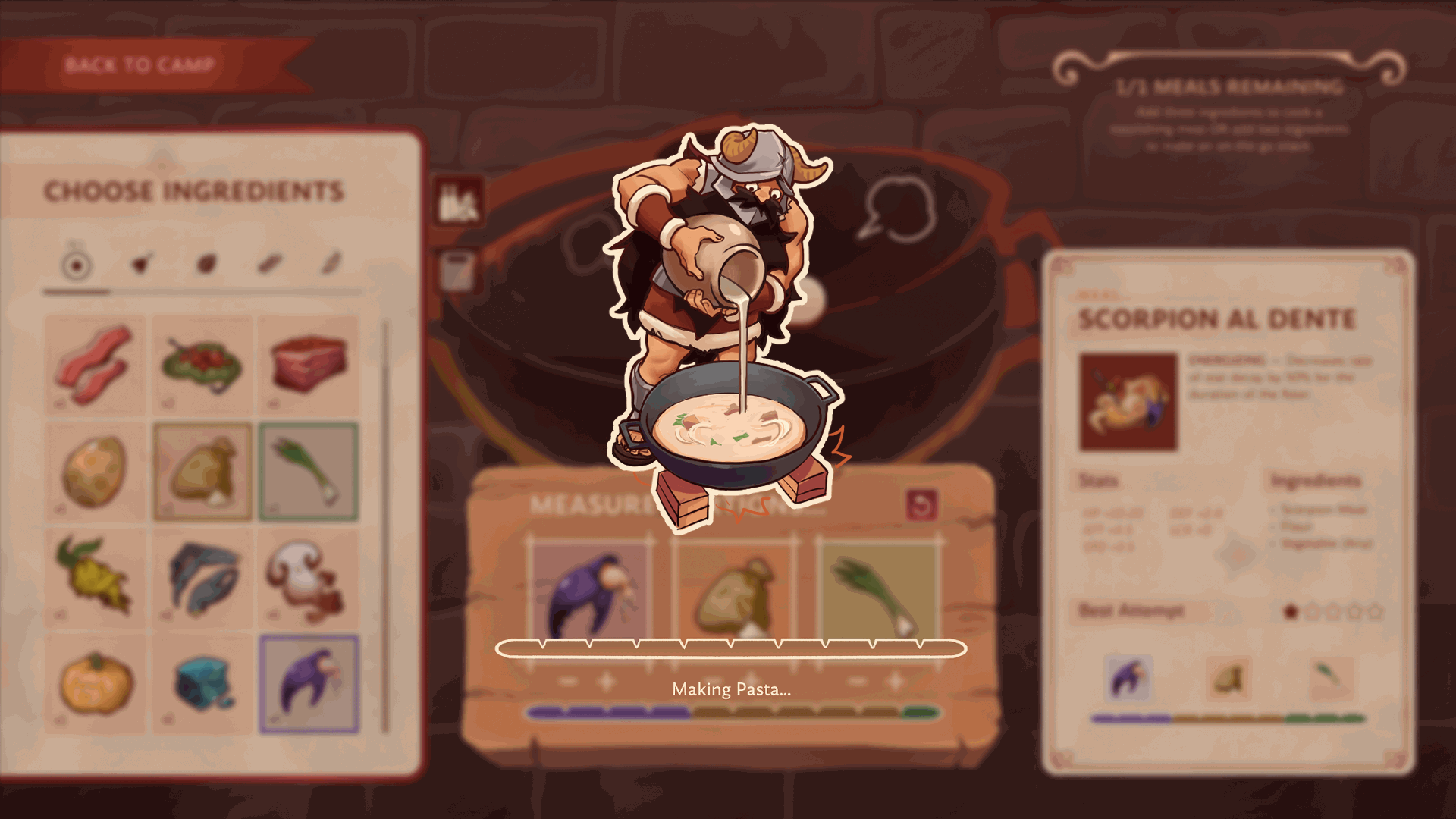 Initially, I struggled to create an interface that would feel friendly and directly communicate the idea of preparing a meal at a glance. I ended up bringing my initial wireframes to life by adding ornamentation to standard container and divider assets, as well as creating "hero" illustrations like the chopping board and cooking animation.
Inventory Management
With a Darkest Dungeon-style combat phase, our party needed a way to equip themselves for future situations.

I designed this screen to consolidate the needs of the party, making it a place where players can view their party's stats, equip or learn more about their gear, review collected ingredients, and consume stored food.
---
Cozy, Quirky, Fantastical: The Visual Identity of Dungeon Meshi
For this game, I wanted to create a visual identity that felt in line with traditional fantasy RPG aesthetics, while retaining the manga's fresh voice. To provide our own spin on the genre, Gary and I drew from a deep well of cooking and food-related imagery to inform our color palette and shape language.

ABOVE: Early moodboard, with inspiration drawn from medieval texts, tabletop RPGs, cooking-related movies, and of course the manga itself.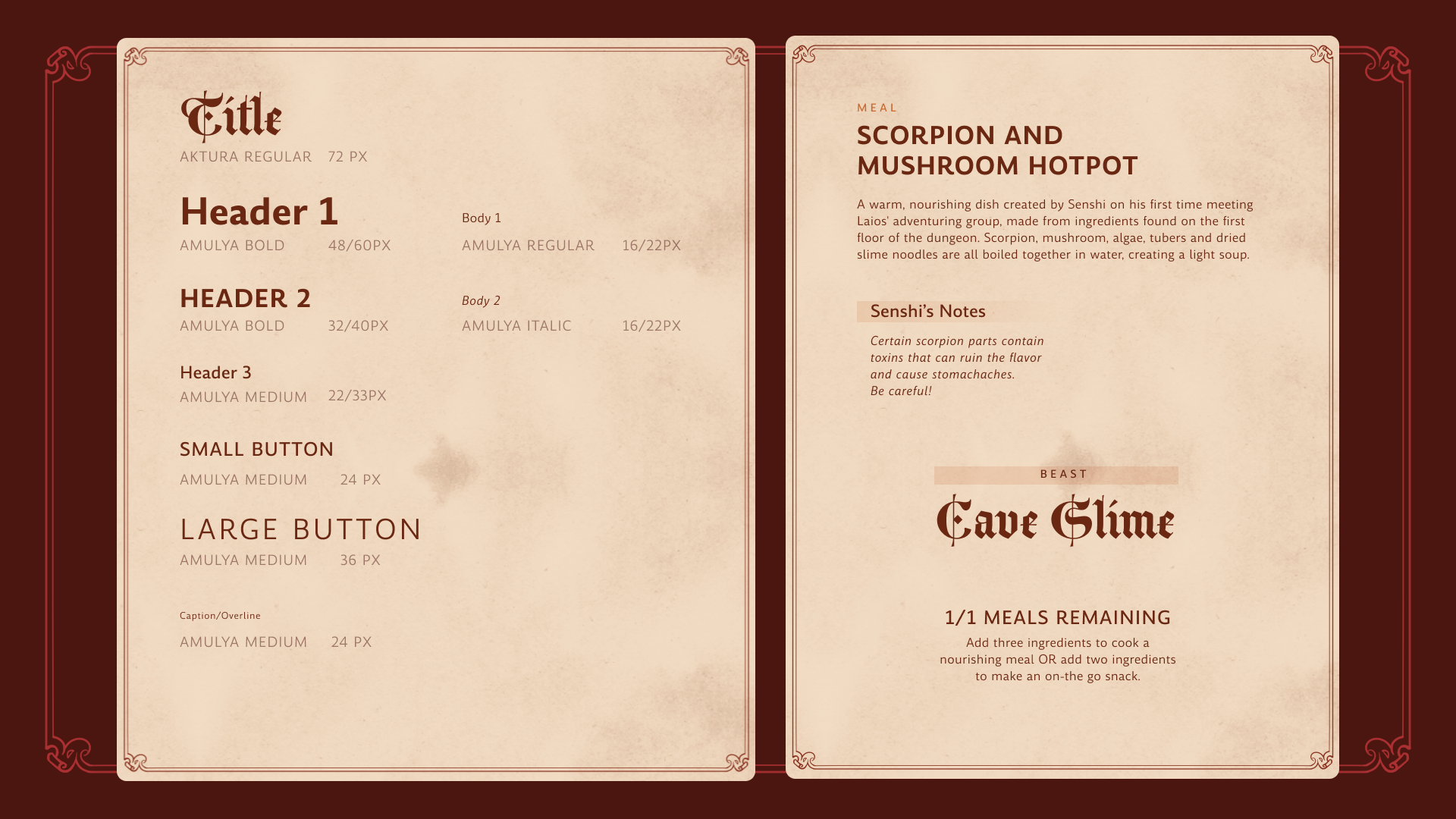 ---
Moving Forward
Imagining a game adaptation for a manga series I've been following for the past three years was a super fun experience. Through this project, I learned about designing for a system with both illustrative and flat graphical elements.

In the future, I'd like to bring the assets into a game engine to juice it up with responsiveness and motion design.